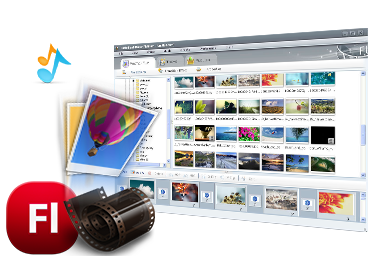 Create stunning slideshow with photos, videos and music
Do you take most of your photographs and videos when on holidays or at festive events? Just make a flash slideshow of these beautiful photos and interesting videos with music to cherish the memories forever.
You can add MP3, WMA, WAV music and CD sound track to the slideshow as the background sound. You can enable audio streaming if the flash is designed for website. FLV video is supported to add to the photo slideshow.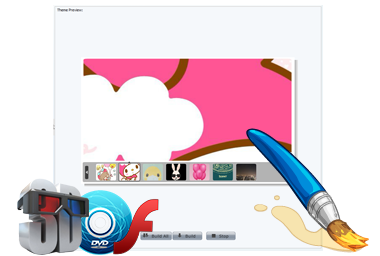 Photo editing
Photo Slideshow Maker Platinum also supports to edit photos, such as photo flipping, adding text, hyperlinks, descriptions, artclip special effects, photo crop and filter, etc. which helps to optimize the photos with the best effects in the output photo slideshow.
If you have your own website, you can upload to your website.
Creating fantastic flash with shining & outstanding dynamic texts, which make the website alive, inspiring, and speak out itself in a creative way.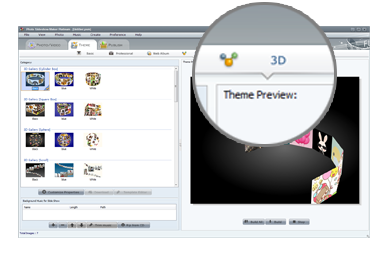 Various options in templates/effects to apply
60+ stylish transition effects for choosing: Random, Wipe from Left, Fade to White, Cross Expansion and more...
300+ well-designed templates divided into 7 categories: Basic, Professional, Web Album, 3D, Premium, Video, and HTML5 templates. HTML5 templates help to create fantastic flash slideshow compatible with HTML5.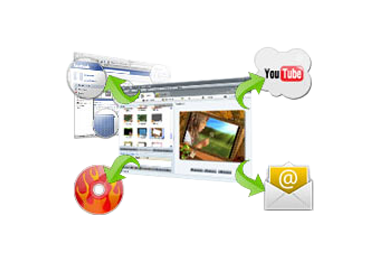 Publish slideshow just about anywhere
After the flash slideshow is created, you can: save on computer drive; send to people by email; upload to your own website or to our free web album Go2Album, and then embed the slideshows to MySpace, Blogger, Friendster and many other social networking websites and blogs; burn gift CD/DVD for your family and friends.
You can embed the flash slideshow with object embed tag or JavaScript SWFobject tag which will be automatically generated by the program.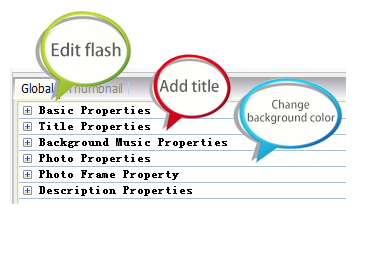 Complete Customizing Options
Except the standalone Basic and Premium templates, all the advanced flash templates are XML-driven. Photo Slideshow Maker creates XML-driven flash in a very straightforward way, even if you've never know what XML is, you can still use the advanced templates easily. And if you need to edit the XML document, we provide full instructions for doing so.
Besides XML control, the advanced templates provide many more custom options, so that you can create slideshow that fits into your existing web design: width, height, border color, background color, thumbnail size, etc.