Go2Album - Free Web Album Service
Photo Slideshow Maker
What People Say
"Photo Slideshow Maker is the best Program to create easy flash files from images. Many features are not found in any other flash designer or creator software... the option to create a single flash file does the job very well and better as most competitors. It's an excellent program."
-Chris Recon
Reward By Expert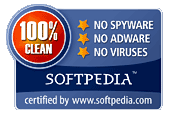 Recommendation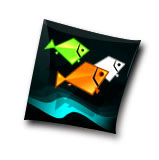 Go2Album (www.go2album.com) is a free online photo gallery dedicated to Photo Slideshow Maker users.
Photo Slideshow Maker helps you create gorgeous photo flash slideshows with music and transition effects, and lots of beautifully-designed flash templates. You can publish the photo slideshows to our free photo album hosting service Go2Album to share with friends.
What's more, your can then add the slideshow to MySpace, Blogger, Live Space, Yahoo 360, WordPress, LiveJournal, and all social websites and blogs that support editing HTML code.
To create photo slideshows that can be uploaded to Go2Album, you need to download and install Photo Slideshow Maker.
To publish PFM-created slideshows to Go2Album, you need to sign up for Go2Album service.
Features

Time Saving Web Album Hosting
You can use Photo Slideshow Maker to directly upload photo album to this free web album hosting. Just one click to upload, saving lots of time. By doing so, you can also spare lots of space for your website server.

Easy to embed and manage
Go2album provides you with three embedding methods: embed tag, swf url and html url. After uploading, you just need to copy and paste the code to your web page to embed without worrying the file path. You can directly change the embed code on your website when you want to update photo album and don't have to handle the flash file.

Embed photo album to anywhere
Using Go2album embed code, you can embed your photo album to any website/blog that supports editing HTML code. Supported website includes: MySpace, Live Space, Blogger, WordPress, Friendster, Orkut, AIM, AOL Journal, eBay, Hi5, Xanga, Piczo, Tagged, Yahoo Geocities, LiveJournal, TypePad, etc.

Fullfill your personal and commercial needs.
If you want to upload photo slideshow for sharing, you can send an album link to your friends and family via email or instant messenger so that they can share your gorgeous album in no time. People can also comment your photo album on Go2album by login.
Big and small business can even utilize Photo Slideshow Maker and Go2Album to better showcase products in eBay, by demonstrating item descriptions with eye-catching flash slideshows.
Uploaded slideshow to be embedded to following websites/blogs
HTML code supported website or blog
MySpace, Live Space, Blogger, WordPress, Friendster, Orkut, AIM, AOL Journal, eBay, Hi5, Xanga, Piczo, Tagged, Yahoo Geocities, LiveJournal, TypePad, etc.
Available embed code
Embed tag
object embed tag
URL
swf URL, html URL
Upload method
Program uploading
Directly upload by Photo Slideshow Maker
Manually uploading
Login Go2album website and upload.(standalone SWF file only)
System Requirements
OS
Windows 7, XP and Vista with Adobe flash play 9 or later installed
CPU
Intel Pentium II Processor and above
RAM
64 MB RAM (128MB recommended)
Sound Card
Windows-compatible sound card (recommended)
If you don't want to upload slideshow files to Web server, or have difficulty in handling the file path, you can simply upload the Flash slideshow to our free web album service Go2Album, and then get the HTML code to embed to your webpage.
How to upload slideshow to Go2album
Step 1: Sign up for Go2Album
Go to www.go2album.com and sign up for the free service.
Step 2: Sign into Go2Album
Open the Photo Slideshow Maker program, click the menu "Preference", and click the "Sign in Go2Album" item, enter your user name and password, click "OK" to save the setting.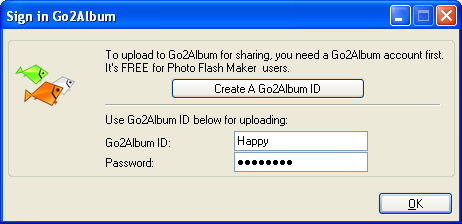 Step 3: Upload Flash slideshow to Go2Album
When you proceed to the last step of creating slideshow with Photo Slideshow Maker, select the "Create Flash File and Upload to Go2Album", and the Flash slideshow will be automatically uploaded to Go2Album.
The program will prompt you to the webpage where the Flash slideshow displays.
Step 4: Copy the HTML Code of the Flash Slideshow
On the right sidebar of the web album page, you will see the embed code. Select and copy the HTML code.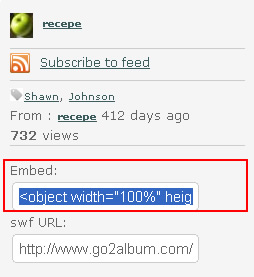 Step 5: Embed HTML code to designated webpage
Now you get the source code. Just open the webpage, and paste the code to where you want to display the Flash slideshow. Done.
© 2005-2022 Anvsoft Inc., All Rights Reserved.