Overview of AnvSoft Movie DVD Maker
What People Say
"This product is simple and fun for me to make great-looking DVDs so my friends can enjoy my creations. It really comes in handy and saves me a lot of time to create something truly unique from multiple media sources."
-Chris Emerson
Reward By Expert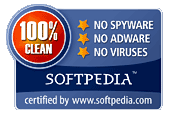 Recommendation
Overview of AnvSoft Movie DVD Maker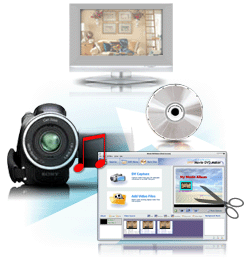 Burn movie DVD from your Camcorder easily.
Burning home movies to a DVD is easy to do today with Movie DVD Maker.
DVDs offer a great way to share your home movies with friends and family because of the growing popularity of DVD players. Thanks to advances in technology, it is possible for almost anyone to do some digital video editing works such as creating desktop video productions at home.
Movie DVD Maker is an All-in-One video to DVD tool which transfers video files and camcorder tapes directly into DVD Video disc. It can capture video clips from DV camcorder, edit video and burn movie on DVD or CD disc.
With Movie DVD Maker, it's simple and fun to make great-looking DVDs. Now, anyone with a DVD player can enjoy your creations.
Movie DVD Maker is the easiest and quickest way to turn your videos into high quality DVD or VCD movies: Create, edit, and share your home movies right on your computer. Build your movie with a few simple drag-and-drops. Delete bad shots and include only the best scenes. You can even edit and combine popular file formats including AVI, WMV, ASF, MPEG, JPEG and many more. This really comes in handy and saves a lot of time, when you want to create something truly unique from multiple media sources.

System Requirements
SP2 for Windows XP
Personal or multimedia computer with a 1.5 gigahertz (GHz) or higher processor
256 megabytes (MB) or higher of RAM
20.0 GB of available hard-disk space or higher
CD-ROM or DVD drive
XGA (1024x768) or higher resolution monitor
DirectX 9 or later graphics support
Requirements for video capture
You need a way to get your videos into your computer. This requires different capture hardware depending on the source of your video. If you have a digital video (DV) camera, you'll need either an IEEE 1394 card or an analog video capture card. IEEE 1394 is recommended for the best quality results. Many new computers come with an IEEE 1394 card already installed. If not, there are a number of manufacturers that make a card that will work with your computer. If you have an analog video camera or a VCR, you will need to have an analog video capture card.
More about Moive DVD Maker
© 2005-2023 Anvsoft Inc., All Rights Reserved.