Movie DVD Maker - making home movie DVD
What People Say
"This product is simple and fun for me to make great-looking DVDs so my friends can enjoy my creations. It really comes in handy and saves me a lot of time to create something truly unique from multiple media sources."
-Chris Emerson
Reward By Expert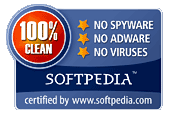 Recommendation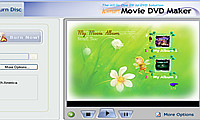 AnvSoft Movie DVD Maker is an easy-to-use program for making home movies.
The Movie DVD Maker combines with video trimming tools, video editing and DVD burning applications. You can import videos from DV camcorder and add video clips from computer drive.
Video editing function, transition effects, and DVD menu templates, all together make it easy to create home movies for watching on TV.
Movie DVD Maker supports both DVD and SVCD discs, NTSC and PAL TV systems.
Features

Burn videos to DVD disc with high quality and fast speed
You can burn your favorite videos or movies to DVD from various popular formats like AVI , MKV, MP4, WMV, MPG, 3GP, WMV, ASF, RM, RMVB, MOV, etc. You can turn all your favorite vacation, wedding, family movies and other movies collection into the fantastic DVD movies without a hitch so that you can share with your friends and family.

Trim, edit & add effects to videos
You can trim video into clips, delete or save any of them as you wish, and if you are unsatisfied with the effect of original videos or video clips, you can adjust brightness, contrast and saturation for them through Video Effect function.

Amazingly easy and fun
Movie DVD Maker is the easiest and fastest way to turn your videos into great-looking movies on DVD. Movie DVD Maker is all about yourself, being a film maker or movie director, you can make common video into fabulous and professional ones with its user-friendly interface from the first time.

Support various types of DVD discs & TV systems
Supported DVD disc types include DVD+R, DVD-R, DVD+RW, DVD-RW, DVD-5 and DVD-9. Both PAL and NTSC TV systems are supported by Movie DVD Maker. you can create real SVCDs and DVDs so that you can play your movies on VCD or DVD player and enjoy them on your TV.
Delivery
Keycode
File Size
21.9 MB
Version
3.02
Platform
Windows XP, Vista & Windows 7
System Requirements
SP2 for Windows XP
Personal or multimedia computer with a 1.5 gigahertz (GHz) or higher processor
256 megabytes (MB) or higher of RAM
20.0 GB of available hard-disk space or higher
CD-ROM or DVD drive
XGA (1024x768) or higher resolution monitor
DirectX 9 or later graphics support
Requirements for video capture
Click the thumbnail to view larger image
With Movie DVD Maker, you can create home movies on DVD/SVCD in a few steps:
Step 1. Adding videos
You can import videos from DV camcorder or add video clips from computer drive. Movie DVD Maker supports AVI, Divx AVI, VOB, MOV, WMV, ASF, and RM/RMVB video formats.
If you encounter problems when import supported video clips to Movie DVD Maker, please make sure DirectX runtime is installed. Otherwise please download and install the runtime from http://www.microsoft.com/directx.
Step 2. Trimming videos
The length of video clips added to the project can be trimmed to fit your requirement. You can also adjust the order of the video clips according to a storyline.
Step 3. Adding transition effects
Movie DVD Maker provides more than 260 transition effects for decorating your movies.
Step 4. Selecting DVD menu template
Now comes to the last step before burning your movies to disc, selecting a DVD menu for the movie. DVD menu provides a navigation to the movie when playback on TV. Movie DVD Maker offers more than 50 DVD menu templates for your selection.
Step 5.Burning Movies on CD/DVD
Everything is ready now. Insert a blank disc to the burner drive, select DVD or SVCD as output, and click the Burn Now to complete the creation of your DVD movie.
Movie DVD Maker supports DVD-R, DVD-RW, DVD+R and DVD+RW discs.
© 2005-2023 Anvsoft Inc., All Rights Reserved.