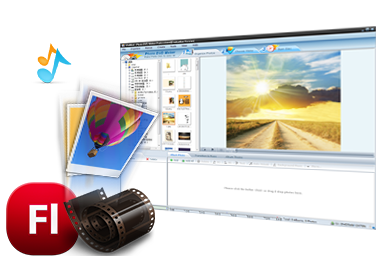 Create HD slideshow with photos and video clips
You can use JPEG, TIFF, BMP and PNG images to creat the video slideshow or DVD slideshow. Normal videos, camcorder vidoes as well as can also be added to the slideshow as standalone album. A built-in file explorer helps you to easily browse and find your photos and videos on hard drive.
This application allows you to add MP3, WMA and WAVE formats as background music. The built-in app also allows you to grab tracks from audio CD as background music. Audio trimming is available. And If you want to add narrations to slideshows, you can use the record feature.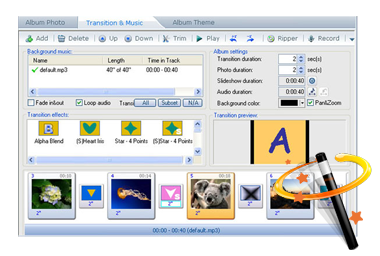 Create gorgeous slideshows with effects and album
More than 300 transition effects, 70 album themes are ready-to-use. So you can perfectly create a photo slideshow for different sceneries and occasions as well as for diffferent people.
The built-in What You See is What You Get photo editor makes it easy to add your own comments for your favorite photos. The position, font, color and shadow of the text are immediately shown with the photo.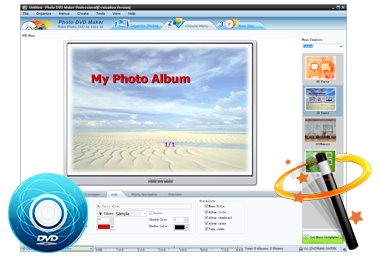 Professional DVD Menu Templates
Photo DVD Maker features a library of professionally designed 90+ DVD menu backgrounds and frames. Ranging from playful to professional, you're sure to find a background for any occasion. You also can use your own photos and graphics as menu backgrounds, arrange chapter buttons anywhere on the screen and customize menu titles and captions. Photo DVD Maker lets you instantly create a stylish DVD selection menu using dynamic motion effects or even your own video as the menu background.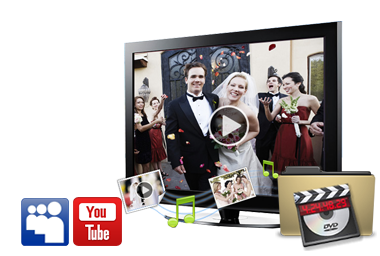 Support diverse output formats
Photo DVD Maker can burn the slideshow to DVD, AVCHD DVD, Blu-ray Disc, VCD 2.0 (Still image) or SVCD for both NTSC and PAL TV systems, export slideshow to 720P & 1080P HD videos, generate video slideshow in commom video formats such as FLV, MP4, AVI to meet different requirements.
Generate MPEG-4 format files for mobile devices such as Apple iPod, Samsung Galaxy, Sony PSP, cellular phone and PDA. Build photo slideshow video ready for upload to YouTube, MySpace. Create SWF Flash slideshow, perfect for e-mailing or posting online to your webpage. DVD Photo Slideshow does it all!