Photo Slideshow Maker Platinum - FLV Slideshow Maker, video slideshow builder
How to edit photos for a perfect flash slideshow
Making photos into flash gallery for sharing online widely is really a fantastic experience for us digital life lovers. To make the photos more beautiful and more fit for our different needs on the output flash gallery, Photo Slideshow Maker Platinum provides abundant photo editing functions.

(Free download Photo Slideshow Maker Platinum)
You may enter the "Edit Photo" window to edit photos in Photo Slideshow Maker Platinum in the following 3 ways:
a. Click the menu Photo > Edit Photos.
b. Right click an image in the region of selected photos, then choose Edit Photos.
c. Click the Edit buttons in the toolbar above the selected photos.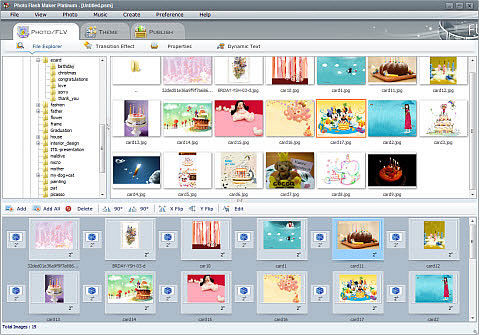 After you enter the Edit Photo window, you can flip photos, add info to the photos, such as title, link, description, etc. add text in different font and colors, add artclips, crop and filtereffects, and so on.
1. Flip/rotate photos
Rotate/flip images by 90 / 180 degrees, clockwise or anti-clockwise.
By 4 flipping options, Photo Slideshow Maker Platinum enables you to easily flip any photo, picture or image right to left, bottom to top and upper left to bottom right in mirror. Just tick the flipping methods you want.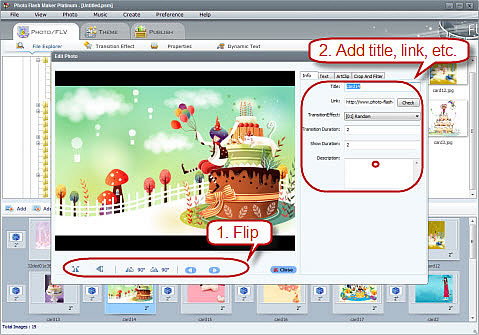 2. Add info
You can add almost any suplimentary info to your photo, such as title, hyperlink, transition effect, description, set the transition duration, photo show duration, etc.
3. Add text
100+ text font for you to choose;
Different colors and artword forms for you to decorate your text;
The choice to add selected text to all.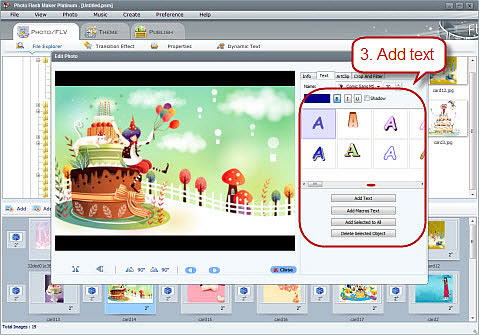 4. Clip art
Hundreds of art clip effects are provided for you to add to your photos in different columns: Favorite, General, Bubbles, Frame, Heart, Baby, Chrisrmas, etc.
Tips:
1. Click the drop-down list of "Favorite" to choose each catalogs of artclips, or choose "More" to add decorations from your local hard drive.
2. Stretch out and draw back the border of the clips, and change the size of it to fit for your photos.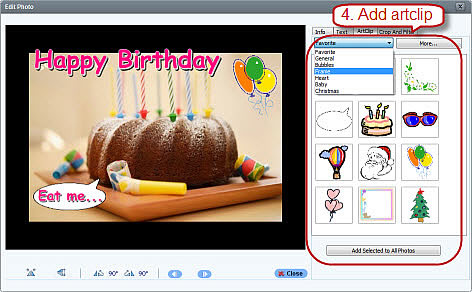 5. Crop and filter
You can also crop the photo sizes for better fitness into your flash template or album theme. You can choose to keep 4:3 aspect; keep 16:9 aspect, or manually change photo size to fit your flash or for other effects.
Filter effects is the most funny part of Edit Photo functions. Here you can set the following filter effects:
Color Matrix, Gray, Inverse, Black & white, Carve, Embossment, 3D Grid, Pinch, Punch, Red Eye Removal, etc. which make your photos much more attractive than the original and with all kinds of visional enjoyment.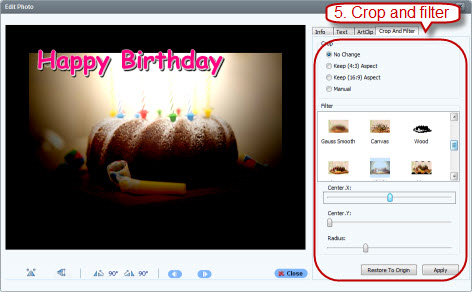 From the above information, we can see that Photo Slideshow Maker Platinum provides such extraordinary photo editing functions that it is really a best choice to edit photos and create a fantastic photo slideshow.
Now you may just free download Photo Slideshow Maker Platinum for a try.
Key Features of Photo Slideshow Maker Platinum:
Support adding photos, FLV videos & music
Support editing photos: clip photos, add info(title, hyperlinks, description,etc.), add text, add artclip, crop and filter, etc.
Support adding dynamic content with 60+ animation text effects and 200+ text styles
Apply with numerous transitions & effects
Provides hundreds of amazing templates devided in 5 categories including video templates suitable for making photo gallery
Support adding hyperlink to videos & photos
Output standalone & XML-driven photo gallery and burn to auto-run CD/DVD
Upload photo video gallery to Go2Album, social websites and your own website

Download FREE trial of Photo Slideshow Maker Platinum

Buy FULL version to remove limitations
© 2005-2022 Anvsoft Inc., All Rights Reserved.